Coping
Drop Face Pool Coping ​is purpose-made for Fibreglass and Concrete Pools.
Perfect for step treads.
Natural stone pavers with a drop face,
bullnose or pencil edge – all non-slip.
Drop Face/Drop Down Coping
Product Description
An extremely popular product. No need to cut corners. A seamless transition from stone to pool with no visible joint.
Drop Face Coping creates the illusion of being flush with the surface. Perfect for pools and steps. We offer several profiles – Pencil Edge and Bullnose, both in Sandstone and Granite natural stone.
Removes sharp edges providing clean straight lines along the perimeter
Aesthetically pleasing, sleek and modern
Avoids miters – both internal and external
Available Finishes
Hydroblasted
Sandblasted
Flamed
Sawn
Natural Split
Other textures available upon request
Natural Stone
Bluestone
Schist
Granite
Sandstone
SIZING
600x400x50/25
1200x400x50/25
INTERNAL CORNER
30mm radius to interior drop down to internal corner with 30mm radius with 10mm pencil radius to top and bottom.
PENCIL L-SHAPE 10mm  Sizing: 600x600x400x50/25 
EXTERNAL CORNER
200X200 interior cut out. 80mm radius to external corner.
10mm Pencil Radius to top and bottom.
PENCIL L-SHAPE 10mm Sizing: 600x600x400x50/25

Product Description
A practical and natural solution for your swimming pool that provides a beautiful non-slip surface all year round.
Available Sizes (mm)
Paving can be cut to bespoke sizes to extend your design options. Accompanied with a leading edge and further options including full bullnose, quarter round, handcut, dropdown and sawn.
Contact us for further information.
Standard size: 600x400x40
SANDSTONE
GRANITE
SANDSTONE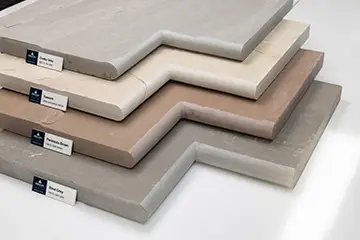 Interested in a product?
We're here to help!
Office
5 Foula Place (off Kennaway Rd)
Woolston, Christchurch 8023
Hours
Available anytime by appointment